Our fillings
Solid and sustainable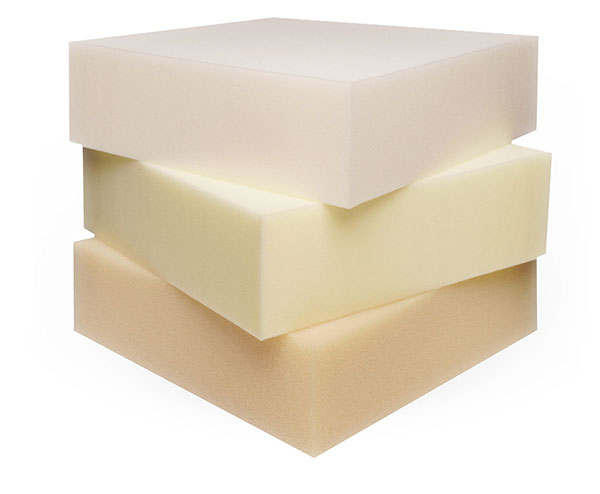 The filling is an important part of your cushion and therefore deserves the necessary attention. You should consider in advance whether the cushions will be used intensively or not, whether they should remain outside in all circumstances or whether they can simply withstand a shower. In addition, you may prefer rather soft or harder cushions. We list them here for you.
With sleek finish
Polyether foam (SG25, SG30 and SG40)
Cold foam (HR35, HR45 and HR55)
Quick Dry Foam
With fluffy finish
Our different types
Polyether foam
Comfortable filling. Ideal for furniture, boat and caravan cushions.
Cold foam
Super resilient. No sagging over time. Extremely sustainable.
Quick Dry Foam
Water-permeable and quick-drying. For cushions that are not taken inside during heavy rainfall.
Hollow fibre
Comfortable and fluffy. Machine washable.
Which filling is right for me?
Polyether
Polyether can be used for furniture, boat and caravan cushions. We usually work with SG30, which is perfectly suitable for garden cushions and normal use. We don't recommend against lower density fillings (such as SG20 and SG25) for seat cushions because they have too little resilience and are ideal for back cushions in particular. So, you can enjoy our filling for years. If you're planning on using the cushions really intensively, then it's best to opt for SG40.
Quick dry foam
Quick dry foam is water permeable and quick drying. This foam received an extra anti-fungal and anti-decay treatment. The water simply runs through it, as it were, so that the cushions can be left outside without any problems, even in heavy rains or snowfall. Extremely sustainable and very comfortable to sit on. However, this product belongs to a higher price category, which makes it especially interesting when you really plan to expose your cushions to extreme weather conditions. Our highly water-resistant fabrics ensure that even ordinary foams do not suffer from a summer shower.
Cold foam
In addition, we also offer cold foam (high resilience foam), which has an extremely high resilience. Moreover, over time it does not sag in places where people frequently sit. This filling therefore has an extremely long lifespan. The price range is slightly higher than that of polyether.
Hollow fibre
Hollow fibre guarantees a comfortable and fluffy cushion. This filling retains its shape for a very long time and is even machine washable. Because of its special properties, this hollow fibre is also often used in cushions for an optimal night's sleep. Unlike polyflakes, this filling will not clump together over time. This is why we deliberately do not offer polyflakes as loose filling. This is a waste material (crushed residues of foam fillings) that does not breathe sufficiently and does not retain its shape well. Hollow fibre, on the other hand, does meet our quality standard.
Create your cushion
Click here
Questions? Contact us!
Click here

Always enjoy a 5-year warranty on all our custom-made cushions!